Membership Benefit: Complimentary Tastings with Guests
Club members receive a complimentary tasting for themselves and up to 3 guests every quarter. With three tasting experiences to currently choose from, club members can be sure of having a unique experience each time!
Additional guests with a member are $20 per person.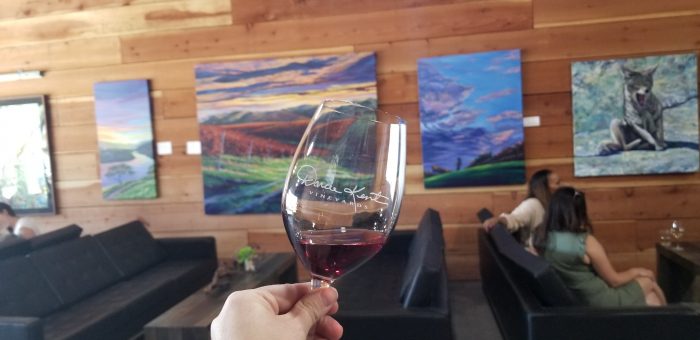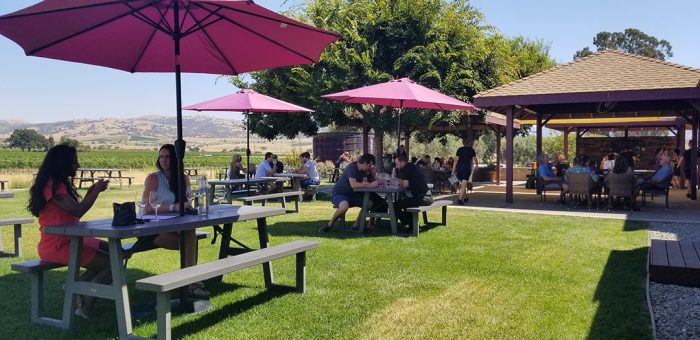 Wednesday – Sunday,
11 AM – 5 PM
$20 per person
Where you'll taste
Outdoors, with picnic tables on the covered patio or grass, with panoramic views of vineyards, olive trees and the Crane Ridge Foothills. Wind-protected seating in the shade and sun.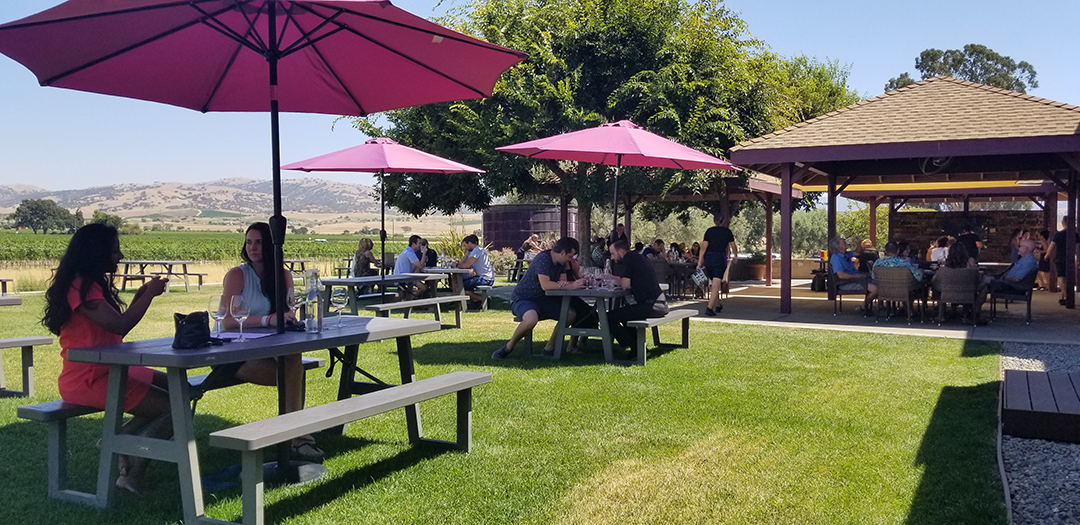 What You'll Taste
Enjoy a six wine flight composed of the wines from the last two quarterly releases. Our knowledgeable staff will be able to tell you all about our newest vintages and releases.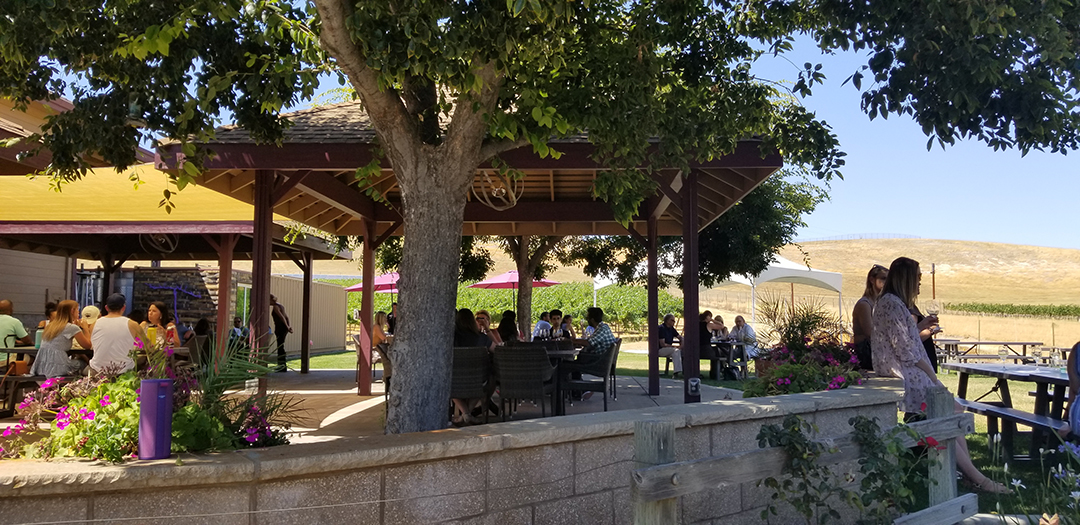 Taste Together
Each picnic table holds up to eight guests.
Planning to taste with the whole family? Tasting outdoors on the Terrace & Green can be a family friendly experience. Dogs on leash are welcome. Children are included in the guest total, and must remain seated or in a stroller during the entirety of the tasting appointment.
We are a working winery and vineyard: please do you not let your children play or roam around the premises.
Friday, Saturday & Sunday,
11 AM – 5 PM
$20 per person
Where You'll Taste
Indoors, inside the climate-controlled Purple Barn. Lounge tables, redwood paneling and leather sofas afford a beautiful view of the Crane Ridge foothills, the Old Gum Tree vineyard, and Darcie's original artwork.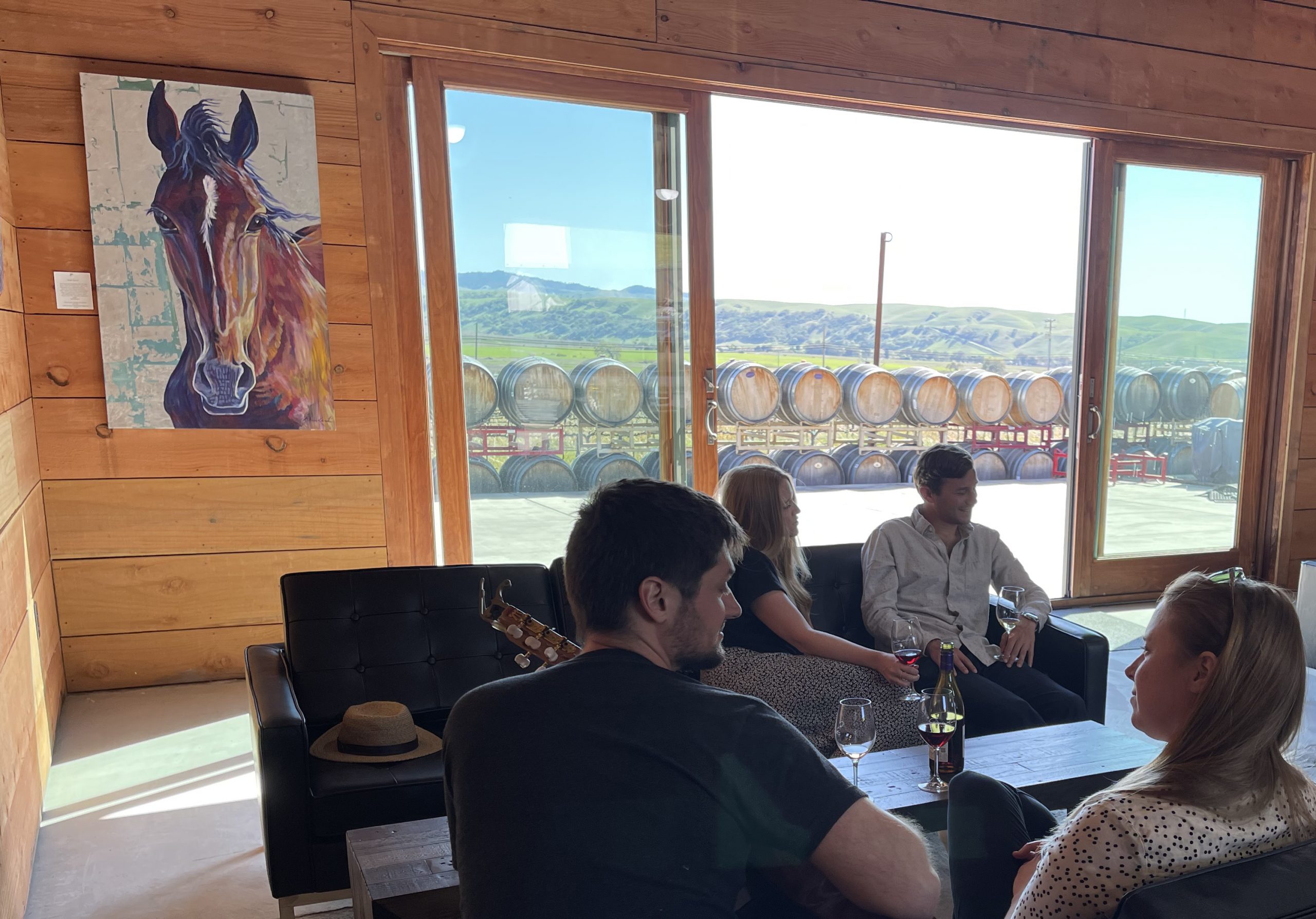 What You'll Taste
Build your own custom flight from our long list of past and recent award-winning wines. Looking for a taste of DeMayo Chardonnay, Madden "Big Petite," or Choreography? This is the place!
Taste Together
Each table seats six adults.
is temporarily closed due to harvest. it's a working barn, after all!
CURRENT BARN SALE OFFERS
Mix & Match Six bottle minimum
$12 PER BOTTLE

(An $18 – $48 value!)
$9.60 PER BOTTLE CLUBMystery Red CaseMix of Cabernet Sauvignon, Merlot & Petite Sirah

(no substitutions)
Previous
Next
the barn sale continues!
Come visit the partially renovated purple barn! Inside, you'll find six tables, organized by varietal. In this self-service event, you can load up your wagon with wines that usually retail for $30 to $60 by visiting each table.
Worried you'll need to line up in advance for the best deals? Don't fret! Wines will be restocked hourly, and we will save some of the best wines for last.
The Fine Print
Minimum 6 bottle purchase, PICKUP ONLY
No Mystery Case substitutions allowed
Total time in the barn is limited to 15 minutes
No sampling/tasting in the barn by county ordinance
One group (two people MAX) per table at a time
Wagon handles will be sterilized between groups
Dress for the Weather
Check in and check out will be located outside the barn. Shoppers will need to be socially distanced while waiting in the check in and check out lines.
[cycloneslider id="wine-gallery"]
—>
Darcie Kent Vineyards provides an incredibly unique wine tasting experience, one that we are very excited to share with you. Both an art gallery featuring paintings by the vintner, Darcie Kent, and a tasting room serving our single vineyard wines, the wine gallery expresses the beauty of both the wines and the vineyards through sight, taste and smell. As we like to say, it is where the palette meets the palate! We offer a Tasting Flight priced at $20 and a Guided Tasting of some of our very best wines including Single Vineyard and Library Wines priced at $40. These two different experiences provide ample room to explore our wines in a manner which you enjoy most.
Our venue is among one of the most beautiful in the Livermore Valley with a large barrel room, an authentic barn and a rustic wooden water tank along with breathtaking and panoramic views of the vineyards and hills which surround the valley. Sit back, relax, and enjoy our wines, our original art gallery or sit outside on our porch or lawns while our friendly and knowledgeable staff serve you.
There are always lots of fun things happening at the winery so be sure to check our Events Calendar to see what special events are taking place! Even better, subscribe to our quarterly newsletter or join our wine club to ensure that you don't miss out on the fun!
Visit Our Wine Gallery
7000 Tesla Road, Livermore, CA
(925) 243-9040
Three Great ways to visit us now
Due to county ordinances to stop the spread of COVID-19, our tasting room is closed.
We miss you terribly, and can't wait to reopen as soon as we are able. Check back here and on our social media for updates!
Until then, here are three great ways to come and visit Darcie Kent Vineyards, and get a beautiful, socially distanced taste of Livermore Wine Country.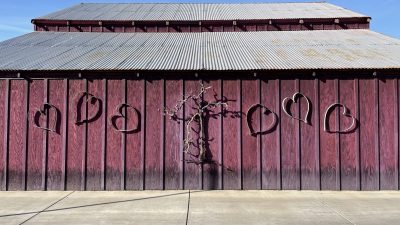 The Barn Sale
The Barn Sale will return in February!
The Barn Sale is becoming one of the Bay Area's favorite ways to stock up one's cellar and adventure to wine country in a socially distanced way.
Inside our newly renovated purple barn, customers travel between tables, filling up their little red wagon with unbeatable deals on our restaurant wines.
More details will be announced soon!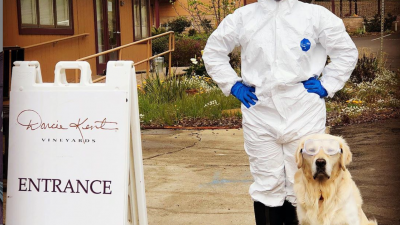 Curbside pickup
We've got this down to an art!
Swing by the tasting room Wednesdays through Sundays, 10 to 4 pm, to pick up your wine, which you can order online.
Not only will you save your back and shoulders a little work, but your spirit will appreciate the change of scenery.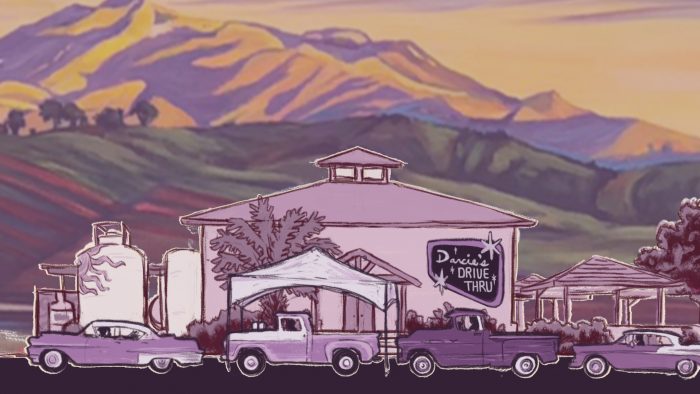 Club Release Pickup
Club Members, make sure to swing by and pick up your complimentary bottle of Darcie Kent Vineyards wine along with your club pack and exclusive End of Vintage Sale purchases.
For those picking up, this extra "party" bottle is our way of thanking you for your loyalty, in lieu of the banging release party we'd normally be throwing. (And are excited to start throwing again, as soon as we are able!)