"Celebrating art, wine & the natural world!"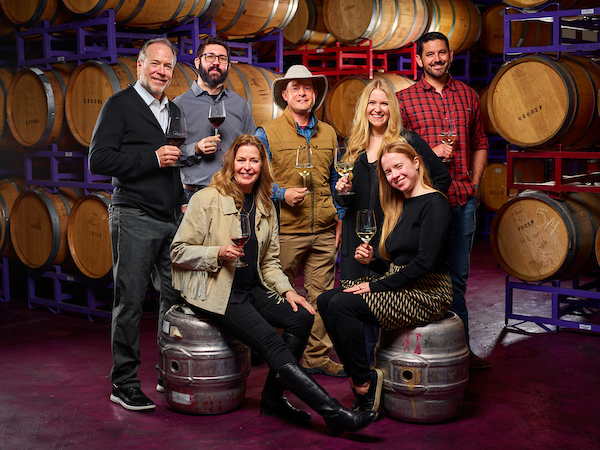 As a fifth generation vintner and artist, Darcie Kent has both paint and wine running through her veins.
Darcie's great, great grandfather, Fritz R. Ruegsegger, came to America with his family from Switzerland in 1875 to pursue a career in winemaking. In 1883, Fritz's son and Darcie's great grandfather, Christian Ruegsegger started his own winery, the Alpine Winery, in St. Joseph, Missouri, which held bond #62 in the United States. Along with managing the vineyards and all winemaking tasks, Christian hand painted his own wine labels. The Alpine Winery bottled its last wine in 1945, when hard times following the repeal of Prohibition forced the family to shut down operations.
Darcie Kent now proudly carries on the family tradition as a fifth generation vintner and artist for the winery that bears her name, Darcie Kent Vineyards. Like her great grandfather before her, Darcie uses her original art for her wine labels and strives to capture the unique spirit of each vineyard and its owner, in her breathtakingly beautiful labels that grace each bottle.
Established in 1996, Darcie Kent Vineyards is a family-owned & operated winery in the Livermore Valley located east of San Francisco Bay.  Along with her husband David and her two daughters Kailyn and Amanda (sixth generation), Darcie Kent is committed to combining Livermore Valley terroir along with her artistry and passion to forge and sustain a world-class, family owned estate winery. We grow, barrel, and bottle all of our own wines.  
Hungarrian-born winemaker Julian Halasz and Livermore native assistant winemaker Jerrod Hernandez work together with our family to handcraft wines from our estate vineyards in Livermore Valley.
In early 2013, Darcie and her family acquired the Estate Winery and Vineyard formerly occupied by Cedar Mountain Winery, and began a state of the art renovation project. Our tasting room is now located inside the historic purple barn on the property, and you'll find no place more beautiful to taste wines than on our Terrace & Green, with its panoramic views of Livermore's wine country.