Club members, don't forget to claim your tickets to THIS weekend's release party!
Club release parties at Darcie Kent feature seasonal food-and-wine pairings, live music, and our epic End of Vintage Sale, where all sale wines are available for tasting, and can be purchased for $12-$18 per bottle.
We're also continuing the popular, "light" session on Friday afternoon. While this session doesn't have food or live music, members who attend on Friday get the first dibs on the End of Vintage offerings, and can taste through all the release and sale wines when they pick up their wine.
It's not too late to join the club! Sign up online today, and you won't have FOMO next weekend.
Wanting to book a tasting? On November 4th and 5th, the Terrace and Green will be reserved for the Club Release Party. Standard tastings will be available in Bing's Barn.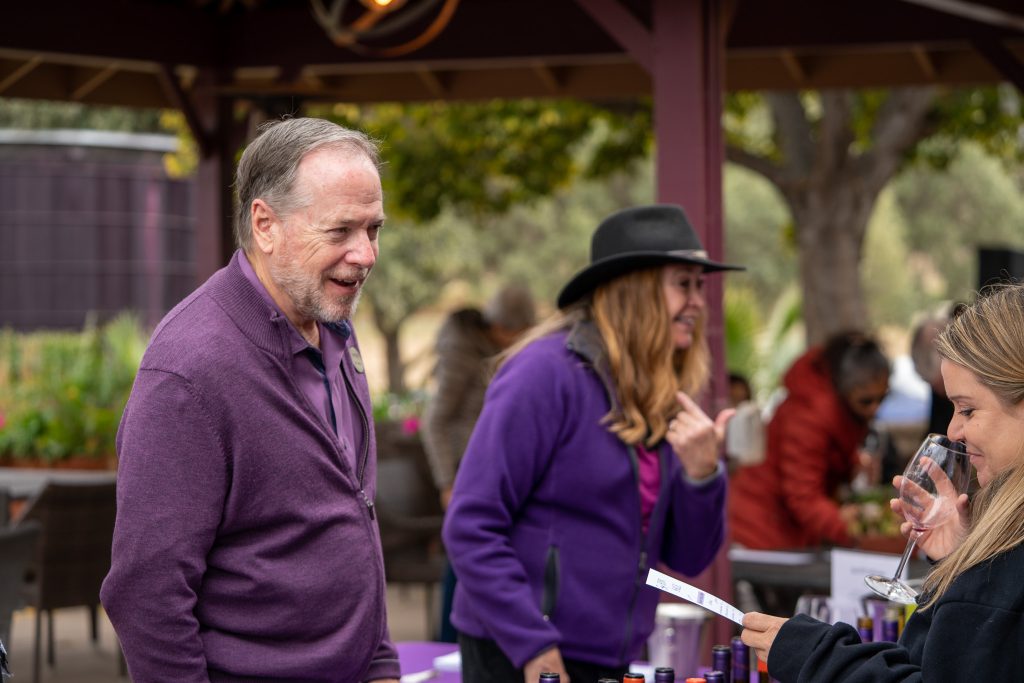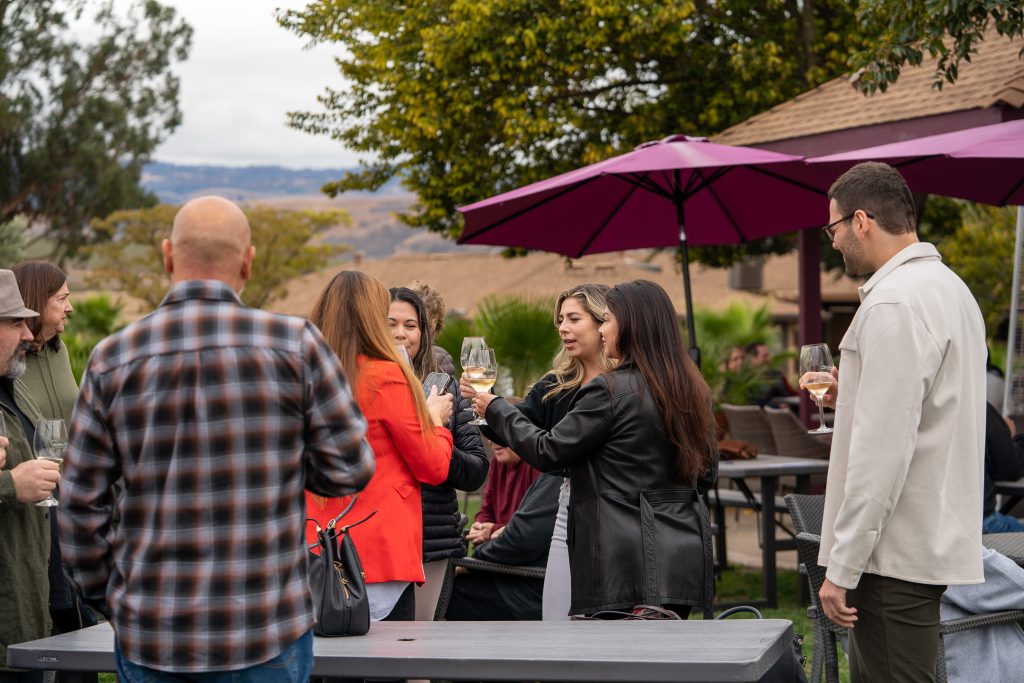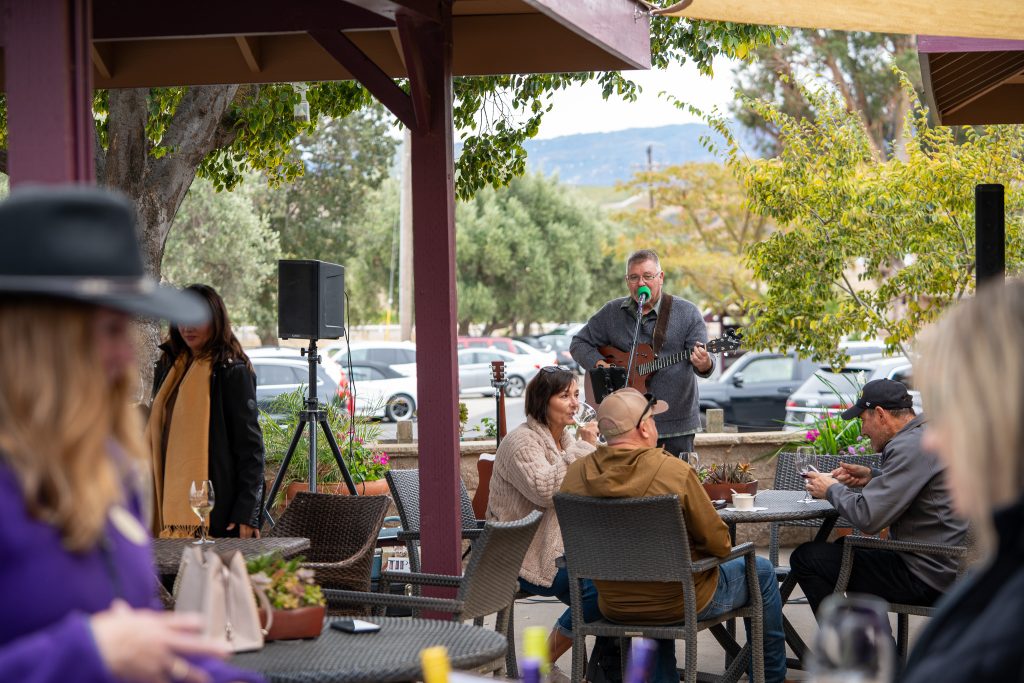 Black Friday Week Begins Nov. 20th!
Monday November 20th – Sunday November 26th (excluding Thanksgiving Day, November 23rd, when we'll be closed)
Up to 75% off on award winning wines! All bottles are recent vintages from our surplus 2021-2022 restaurant inventory. Many of these bottles won Best of Show or Best of Class in the SF Chronicle, Livermore Valley Uncorked, and Alameda County Wine Competition!
Mystery Red cases include four bottles each of Cabernet Sauvignon, Red Blend and Petite Sirah. No mystery white cases will be available for this sale.   
All cases are $150 per case for non members, and $120 per case for members. That's as low as $10 a bottle for members!
Must be purchased unopened as a case of 12 wines.

Not an internet sale. No delivery or storage available.

Wines must be picked up at time of sale.

Sale limited to stock on hand, while supplies last.
Not Yet Named Wine Company: Winemaking Update
From Alex Brogan, winemaker for Not Yet Named Wine Company, and Winemaking Assistant for the 2023 harvest:
"It's been a whirlwind harvest for Not Yet Named Wine Co. Our members from both sides of the Atlantic have been collectively voting to democratically design their own wine!
The hard work has been mostly completed now as we approach the end of harvest. Members have made the following choices;
Red rather than white,

Pinot Noir instead of Cabernet Franc,

The Dijon clone surpassed the Pommard and the Swiss,

20% of bunches were left whole for fermentation, as well as cold soaking for two days prior the start of fermentation,

The Assmanhauser yeast, as opposed to the Burgundy RC12 yeast kicked off the fermentation,

Short PulsAirs multiple times per day for a light extraction,

Now the wines have been lovingly placed into 6 carefully selected barrels with one of them being new French Oak.
Whilst most of the hard winemaking work has now been done, it's on to the fun stuff for voting – naming the wine, designing the label and, right now, the members are putting together a playlist so our wine can be raised in classical harmony… and heavy metal, and pop, and country, with a splash of UB40, of course.
There is still time to sign up and get six bottles of this unique wine that comes with a real understanding of how wine is made and some light-hearted entertainment along the way!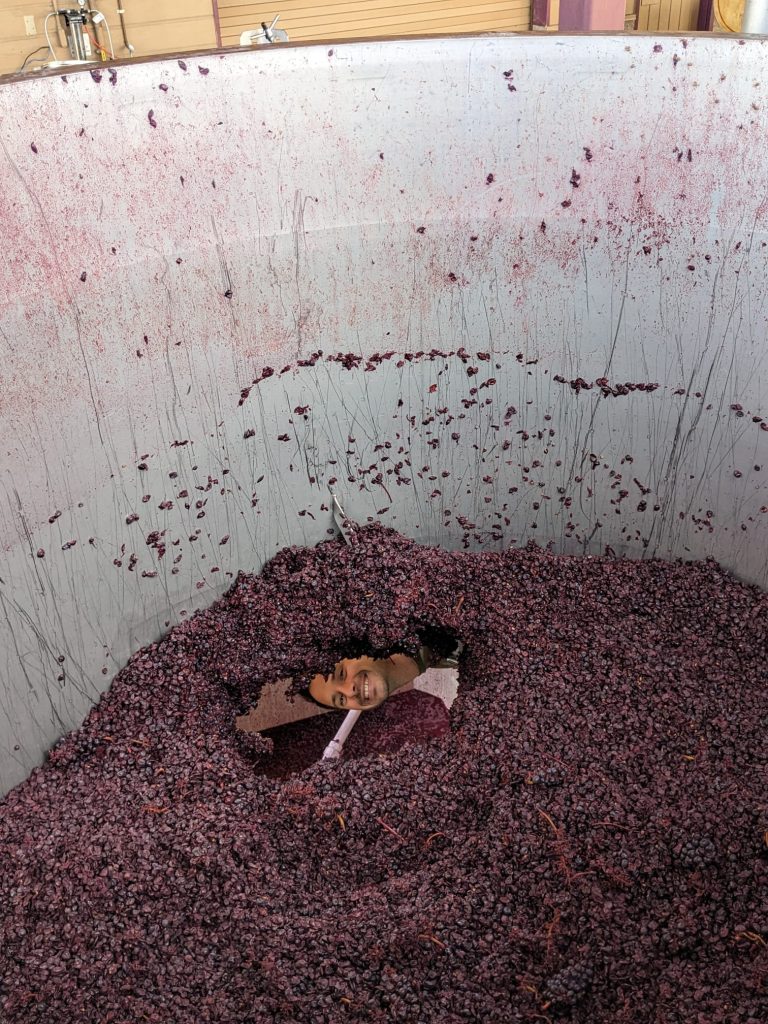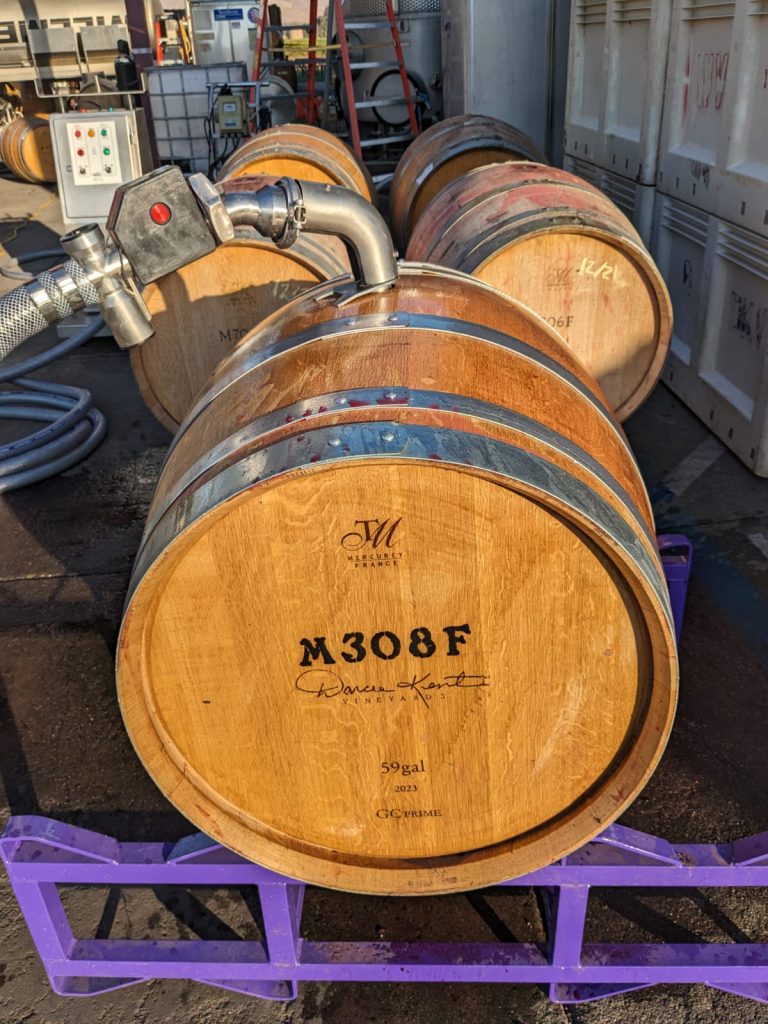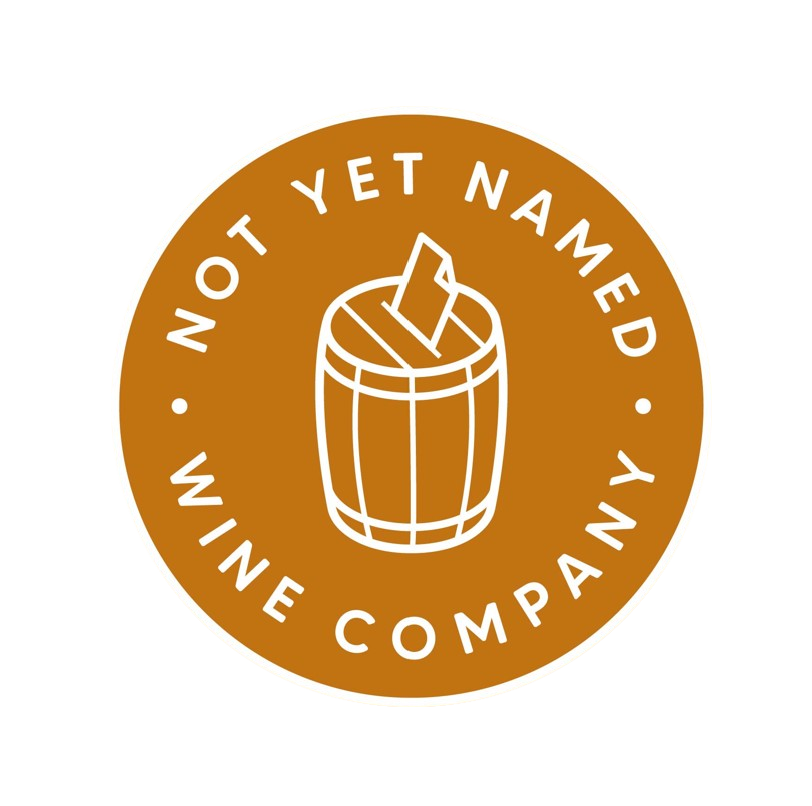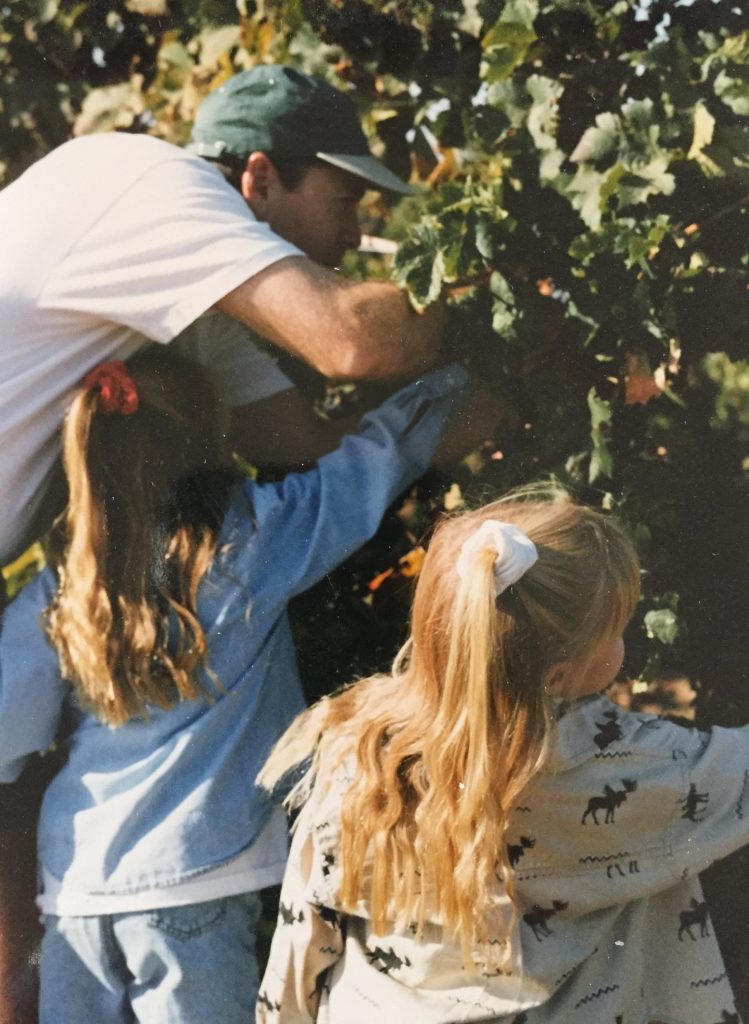 One Last Goodbye To Old Vines
Winemaking is a long-form art. We are just now releasing wines that we harvested in 2019- four years ago! Considering all that has happened in the last four years, that feels like a very long time ago.
Four years ago, we also said goodbye to our original and beloved vineyard block. When we started out in 1996, we originally just had 10 acres of Merlot vines. These vines produced an incredibly intense and opulent Merlot, more in the style of a St Emilion than the varietal that was popularly disparaged in Alexander Payne's film Sideways.
Nevertheless, vines are living organisms. While the fruit got better with age, eventually the vineyard reached a point in its old age where it was easily susceptible to disease, and produced less and less fruit. In 2019, we made the decision to pull the vines, and said goodbye.
Now, new young vines are growing where the old gnarled vines once stood. And we find ourselves saying goodbye one last time, with the release of the 2019 Ghost Vines Merlot vintage with this club release.
~Kailyn Kent
This year, Darcie took new inspiration from painting on reclaimed barrel heads. Her "Stained Glass" series captured the vivid colors of the grapes at harvest time, and how the autumn light illuminates the clusters and leaves with emerald, sapphire, and ruby-like intensity.
Her inspiration has made its way back full circle to the canvas, where she has created a large scale work in this style.
Here is Darcie's artist statement:
"Stained Glass"
Every morning from August to the end of harvest we are in the vineyards cutting out all the less-than-perfect fruit. As we work, I love seeing the grapes lit up in the morning light, making the grapes and leaves look like a stained glass painting."
This new masterpiece will be debuted at this weekend's club release party!
And if it doesn't sell this weekend, it will be visible in the Bing's Barn Art Gallery (until it does!)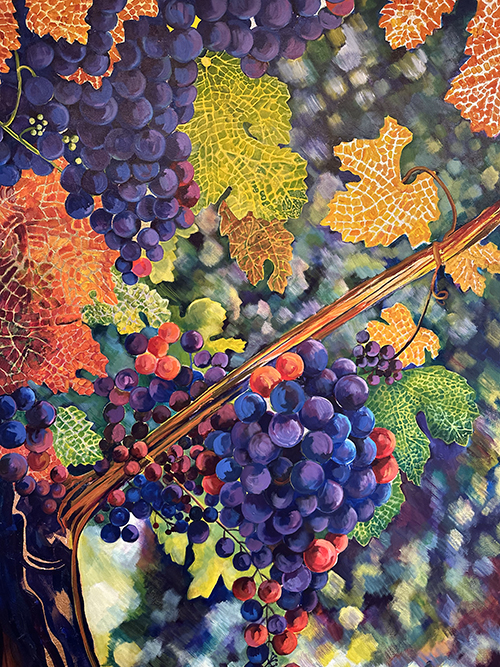 Acrylic and metal leaf on canvas
36″ x 48″
Gallery price $4800 | Club members $2400
Photos from this year's harvest, taken by Raj Hehar, Alex Brogan, Marshall Oliver, Julian Halasz and Darcie Kent.
You may have heard that wines get better with time. And there is a lot of truth to that – if the wines are cellared in a proper place, and have the proper qualities. The most important of these is high acidity. For red wines, having strong tannins that can slowly integrate into complex, incense like flavors is also key.
However, did you know that this concept can also apply to the vineyard? Harvest is a delicate balancing act, and this year has been more complicated than most. You want to make sure you harvest when the acidity levels are still good. Sour, unripe grapes have too much, but raisins often have too little! You also want to make sure that you've reached the appropriate level of sugar. The amount of sugar will determine the amount of alcohol, as well what kind of fruits the wine will taste like. Finally, there are some phenolic properties, like the pepperiness of Cab Sauv and Sauv Blanc, that only emerge with a little hang time.
This slow, cool harvest has been one for the record books. Not since 2018 with our Halloween Petite Verdot harvest have we had to wait for so long. But it's been worth it! The grapes have retained their acidity level, and we've reached our ideal sugar levels. And, since it took a little longer to get here, the grapes have also developed beautiful flavor characteristics- kind of like a little "cellaring" on the vine! And just like in the cellar, cool (but not too cold) weather can help.
This harvest may yet be known for its "perfect chemistry." We can't wait for you to try these wines, with the release of the first whites and rosés this winter.