You know what happens when you combine red, white and blue? You get purple! (Well, lavender technically.) 
Come celebrate the long weekend with us at Darcie Kent Estate Winery. 
We will be open with our normal hours on Saturday, Sunday and Monday. 
We will be closed on July 4th in observance of Independence Day, and then open with normal hours on July 5th. Cheers!
Silent Sky awarded SF Datebook's "Datebook's Pick!"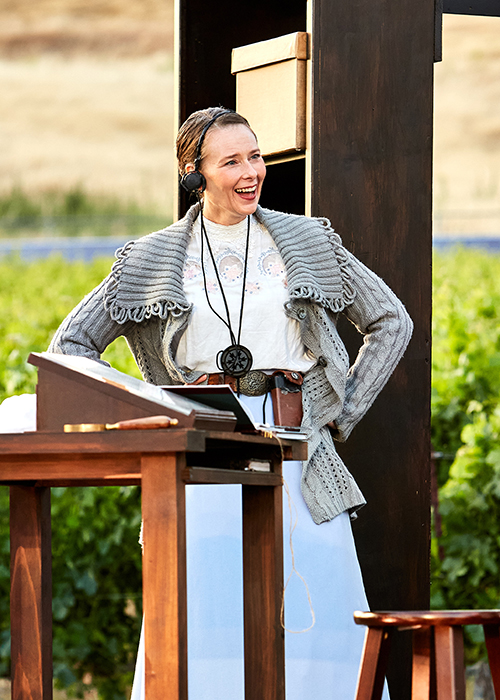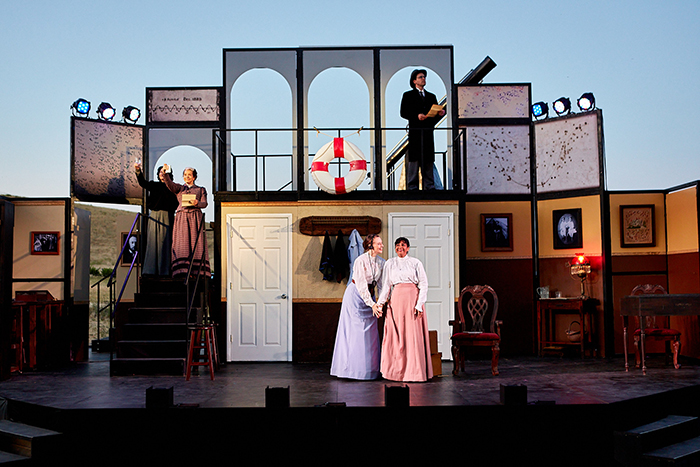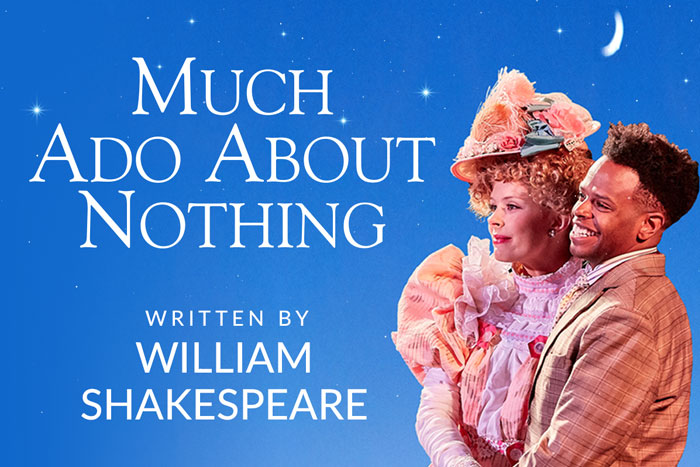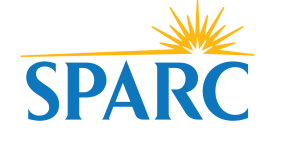 Silent Sky Only running for Two More Weekends!
SPARC Theater presents "Silent Sky" 
Directed by Jennifer LeBlanc
June 22nd – July 9th
(Shakespeare's Much Ado About Nothing begins July 14th)  
Do you love Disney's Hidden Figures? Or Tom Stoppard's Arcadia? Then you'll love Silent Sky. 
Women have ALWAYS been in Science! Our 2023 season opens with Silent Sky by Lauren Gunderson, and directed by Jennifer Le Blanc.  
Silent Sky is the true story of 19th-century astronomer Henrietta Leavitt, who challenged a woman's place in society during a time of immense scientific and societal upheaval. With music and math bursting forth onstage, Henrietta and her female peers change the way we understand both the heavens and Earth. 
This show is perfect for those who love the intertwining of the arts and sciences, and for families looking to inspire their blooming scientists at home. The show is appropriate for ages 12 and over. Picnics are welcome, and pets are allowed on leash! 
Get Ready for "Much Ado About Nothing!"
SPARC Theater presents "Much Ado About Nothing"
Directed by Lisa A. Tromovitch
July 14th - August 6th
One of Shakespeare's most popular comedies, Much Ado About Nothing explores love and friendship, honor and deceit, and a couple of cases of crossed wires.
Newly-engaged Hero and Claudio play cupid to the constantly bickering Beatrice and Benedick, but can love really conquer all? Or will it all be much ado about nothing?
*July 14th is the Preview and Family Night. Join us Saturday, July 15th for an opening night party with Much Ado About Nothing! Enjoy a dinner, wine, raffle and a fund-the-need exclusive. 
Conducted Tasting experiences Return!
Longtime fans and members fondly remember the conducted tastings on the sun deck. During the pandemic, we renovated the purple barn for this purpose- to be a beautiful new home for our conducted tasting series.
Bing's Barn Art Gallery is not only an ideal environment for a holistic and focused wine tasting experience, but features panoramic views of the Crane Ridge foothills, and features Darcie's original art.
Starting mid-month, come in and enjoy an elevated wine tasting experience in Bing's Barn, featuring our most coveted wines and a personalized presentation by a knowledgeable staff member.
We'll be having a "soft launch" of this experience at the start of the month, with the full launch on July 14th.
Stay tuned for the full announcement, including details on how to book your experience and special club member perks.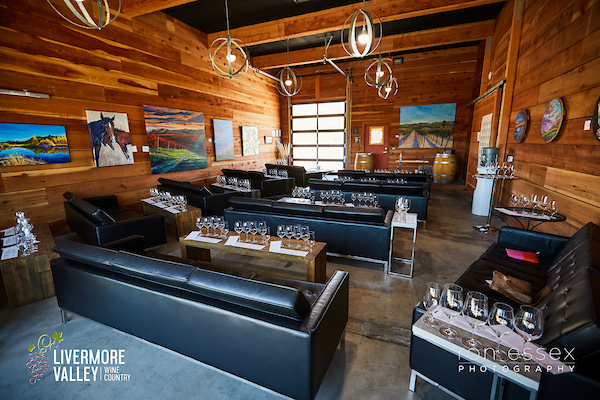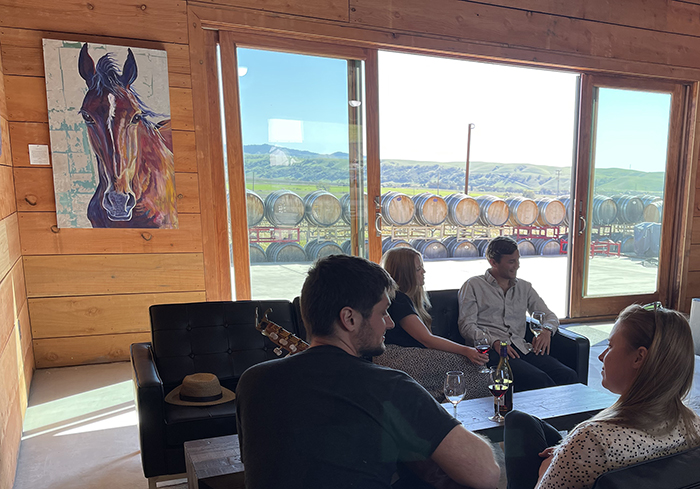 Sip & Surf White Wine & Seafood Festival
Our sister winery ALMOST FAMOUS, along with 3 Steves Winery and McGrail Vineyards are excited to announce the Livermore Valley Wine Communities' first-ever white wine celebration.
Join us on July 22nd for the inaugural…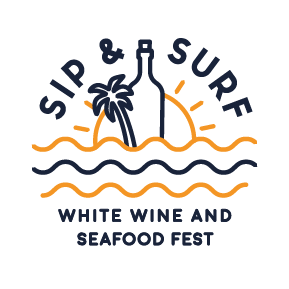 July 22nd, 4:30 - 7:30 pm, 3 Steves Winery 
The Livermore Valley's proximity to the Bay is the single most powerful influence in our ability to produce world-class white wines: for example, we are the same distance to the coast as Galicia in Spain (for fans of Vinho Verde and Albariño!) 
Not only is this Livermore Valley's inaugural white wine festival, but it is also Livermore's first seafood extravaganza. There are several seafood trucks on-site selling lunch and bites. There will also be live music, and parking is free!
$40 Ticket includes: GoVino Glass, 2 Tastes from each Winery (3 Steves, Almost Famous, & McGrail), 15% discount on all glasses/bottles purchased.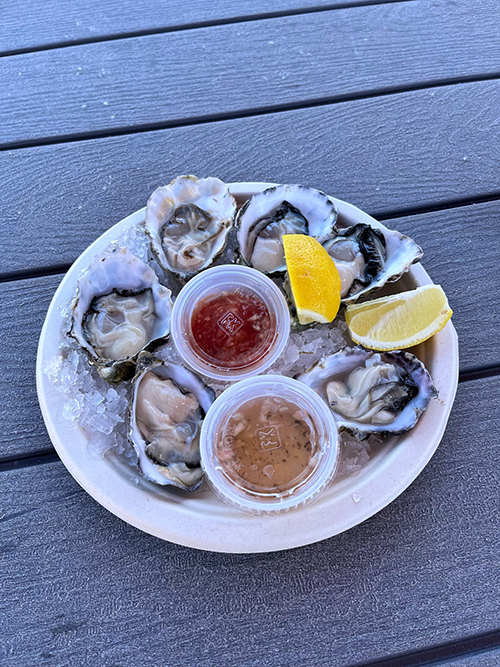 Jam in July Returns on The 29th to Vasco Row!
Stay tuned! We're only a few days away from the official, full line-up release for this year's Jam in July, happening at our sister winery ALMOST FAMOUS and around the entire Vasco Row block. The Midnites and Island of Black and White will be playing during the block party, while Wolf Hamlin & The Front Porch Drifters will be rocking the AFW stage at the after-party. Jam in July is family-friendly and FREE, but you can reserve a VIP table for the full day, for just $25 per person. The after-party featuring Wolf Hamlin & The Front Porch Drifters is 21+, and tickets start at just $10.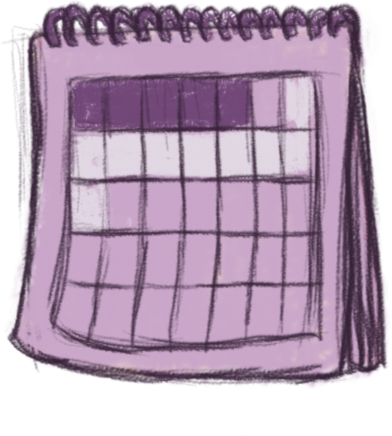 Friday July 21st :  Through the Grapevine Podcast "Meet the Makers" Community Mixer at Almost Famous featuring co-host Jeremy Troupe-Masi, CMS (our Director of Hospitality!)
August 10th – 12th :  Darcie Kent Estate Winery Quarter 3 Club Release
Darcie's newest barrel head painting, "Emeralds," is on display on the Terrace and Green.
While the striking cluster of green Grüner grapes may take center stage, the dramatic way Darcie paints the twisting shadows and highlights on gnarled vine will keep you coming back to gaze again, and again and again. This painting is full of mystery!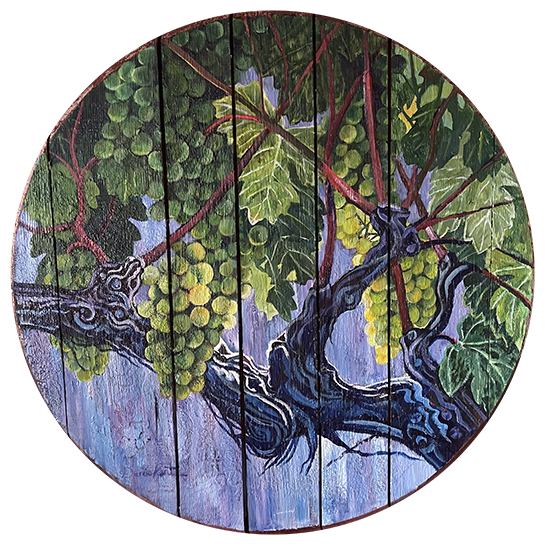 "Emeralds"
acrylic on canvas, 30" x 30"
Gallery Price $1700 / Club $850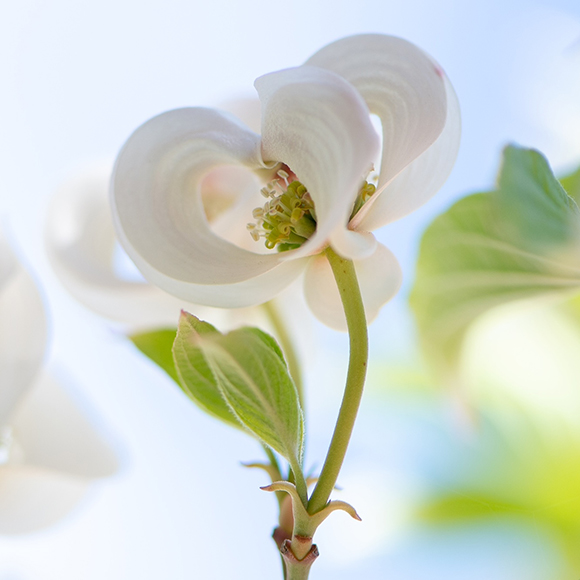 "Dogwood Dreams"
acrylic on canvas, 30" x 30"
Gallery Price $2360 / Club $1180
New Work by Tracy Johnson Hanging in the Gallery!
Darcie believes that terroir isn't something that only affects grapes- it affects artists too.
Tracy Johnson is a fellow artist who shares our Mount Diablo highlands terroir. She literally lives on Crane Ridge along with David and Darcie, surrounded by the vineyards that supply Darcie Kent, Wood Family Vineyards, Cuda Ridge, and several other Livermore wineries.
You'll recognize Tracy's Hummingbird works, which graced Bing's Barn this winter, and before that in the Almost Famous Tasting Room before it moved to Vasco Road.
In her newest series of work, Tracy's eye for color and detail celebrate the abundance of floral life that grace the vineyard and gardens of Crane Ridge.
Come see "Dogwood Dreams" and three other works in Bing's Barn Art Gallery!
Summer may be sweet, but life's all "sour grapes" in the vineyard. Oodles of young, green grapes are hanging in the fast-growing vine canopy, which will grow at least a foot taller through July. You'll also notice grape bunches on the ground, after being cut off the vine. 
Don't worry, they are supposed to be there! Crop thinning is very important at this time of year. Ambitious young vineyards sometimes create more grapes than can ripen. Even older vineyards benefit from losing a part of their crop.  
A vine can only give so much acidity, sugar, and chemical properties to its grapes. When it has a lot of grapes, its resources get spread thin. When it only has a few clusters to ripen, it loads each cluster with acid, sugar and complex flavors, like the phenolics that make wines peppery, floral, or incense-like.  At the end of July and start of August, the grapes will begin to turn their true colors, and a few weeks later, begin to ripen.