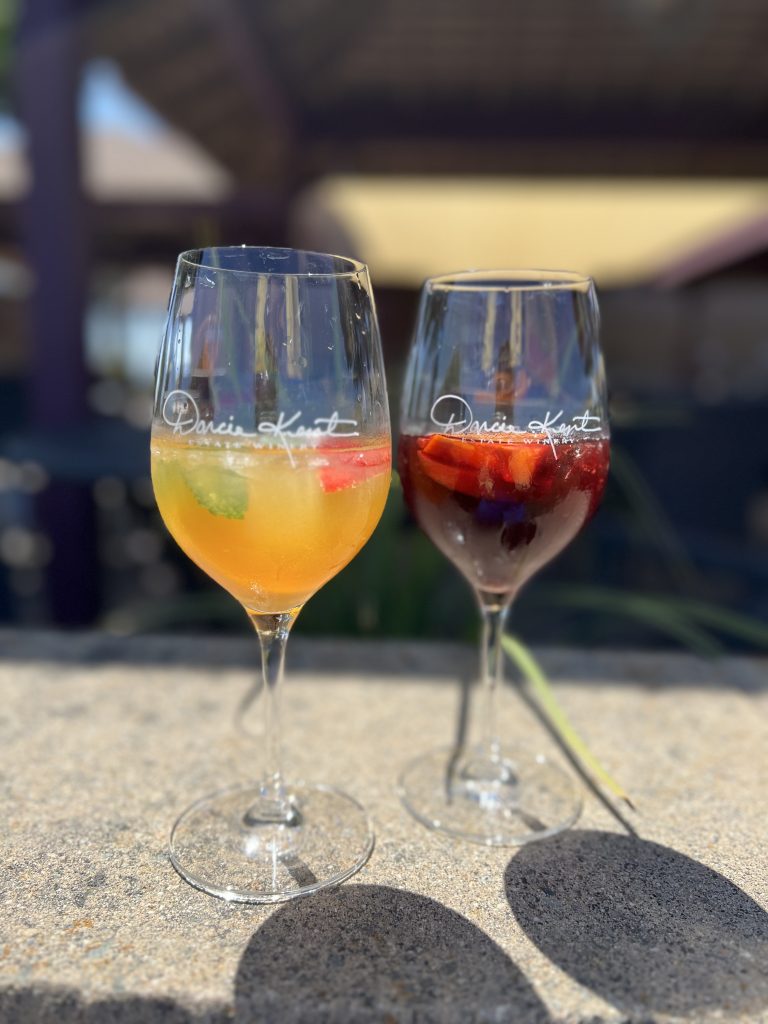 Sunday May 14th: Mother's Day
We've got two special additions to our Mother's Day menu at Darcie Kent: Alpine Red and Alpine White Sangria!
Sangria is available while supplies last. Reservations are filling up fast for this Sunday. If you were planning on coming by, make your reservation asap.
Bringing the whole family? Kids are welcome too! While underage guests should remain seated with accompanied adults, they can join in on the fun with our expanded non-alcoholic menu offerings. We also have charcuterie plates, sandwiches, hummus and dips available for purchase while supplies last, and you are welcome to bring your own picnic lunch, we simply ask that you clean up after yourself if you choose to bring your own food.  
Terrace and Green Re-opening (Take Two)
Bottles are up to 75% off, with members getting $10 per bottle. There are red and white/rosé options – maybe pick up one (or several) of each!
Red packs contain four bottles each of Cabernet Sauvignon, Petite Sirah and a red blend.
White/Rosé packs contain four bottles each of Sauvignon Blanc, Rosé, and Chardonnay.
All wines are recent vintages in great condition, from our surplus restaurant inventory.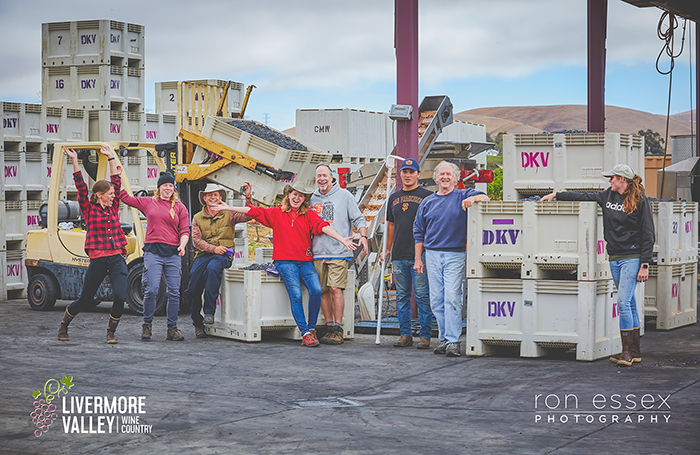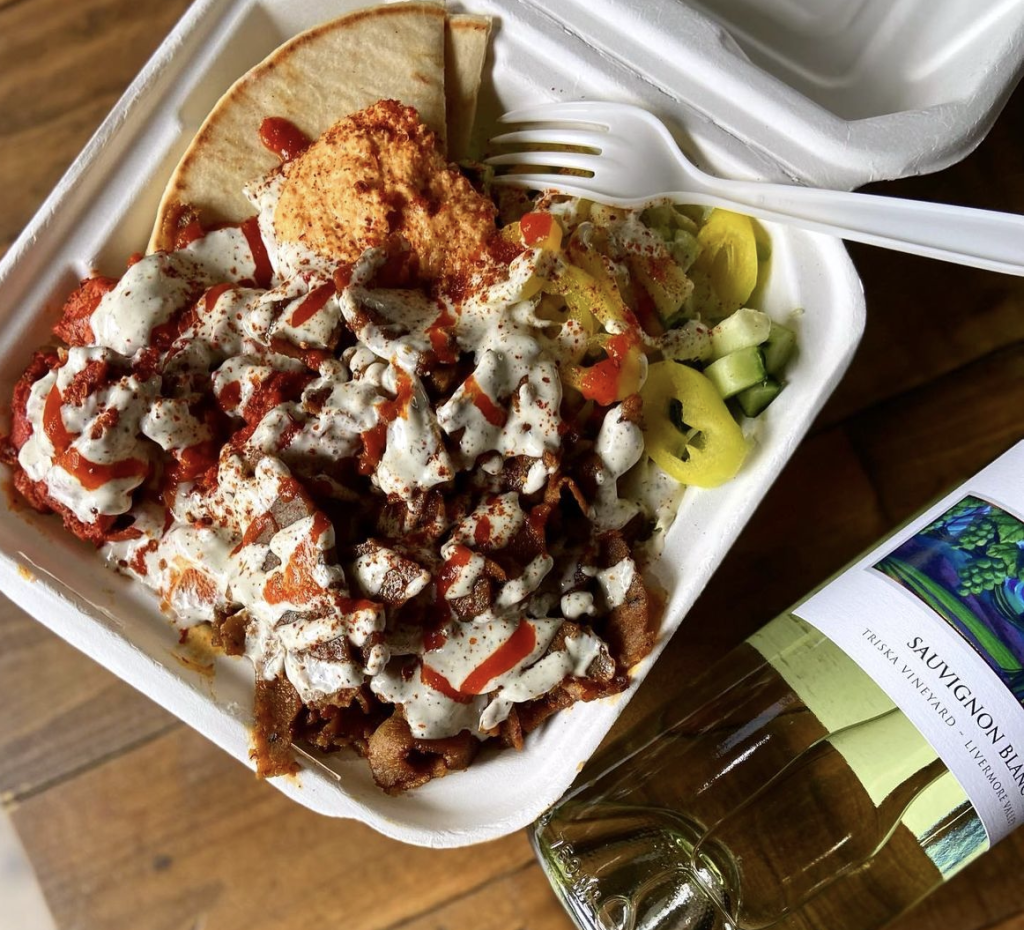 May 31st - June 4th: We're Winery of the Week!
We're so excited to celebrate art, wine, and the natural world with you later this month, as we take our turn in the spotlight as Livermore Valley Wine Community's Winery of the Week!
We'll kick off the week with "Wine Wednesday" on May 31st.
We will be open from 5-8pm to help guests "wine-down" from the workday and connect with other wine lovers and members of our wine community.
The fun doesn't stop on Wednesday night. Watch out for special "behind the scenes" peeks from our winemaking team and Darcie's studio on social media.
At the winery, we'll be pouring a VERY limited edition Stone Patch Cabernet Franc Vertical Flight, which will only be available for this one weekend.
We are pouring it in honor of two events: Winery of the Week, and Cab Franc-A-Palooza, which will be going on that same weekend.
Our Wine Wednesday will feature a gallery night, including a debut of Darcie's most recent large painting.
A food truck will also be parked at Darcie Kent, with delicious bites. Stay tuned for the reveal about who will be popping up!
For three weeks, Darcie has been at work on a large, panoramic painting of the Mt. Diablo range, featuring an epic sunset.
She'll be debuting this painting at Wine Down Wednesday, on May 31st, at Darcie Kent Estate Winery.
Check out these rare photos of a Darcie original in progress: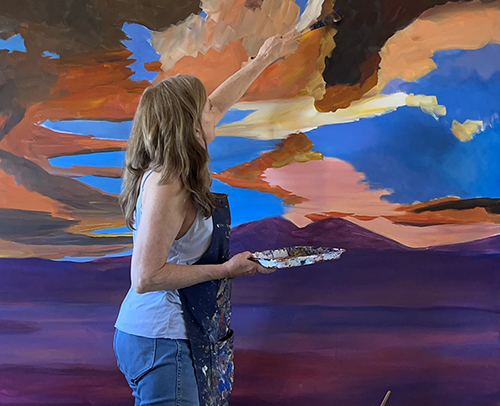 You might be surprised by some of the colors Darcie uses for the hills and clouds when a painting is in its earliest stage!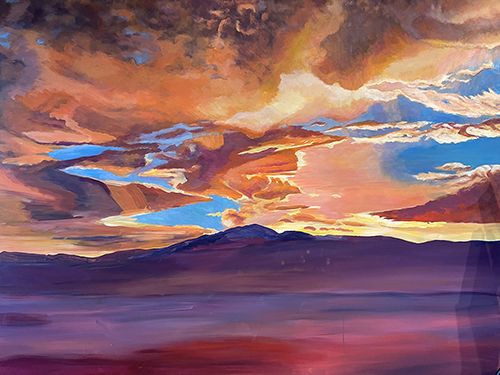 Darcie adds texture and details to the sunset before working on the foreground.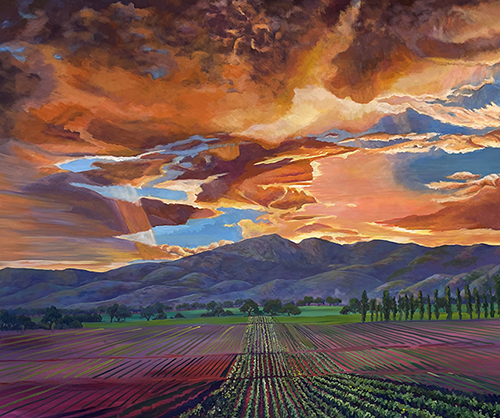 Darcie then adds foreground details, like the vineyards and oak trees.
This was another year where we truly understand the meaning of "April showers bring May flowers."
Our vineyards will soon be blooming, but the flowers are so tiny, they are almost impossible to see unless you get really close. Later this month, each pollinated flower will become a tiny grape.
Our vineyards are full of growth. You'll see crews at work "shoot thinning" the vines. It's important to only keep the shoots that are growing in ideal spots. That way, the vine can save its energy for producing beautiful clusters in the best part of its canopy.
David and Darcie also help remove "suckers," or new vine growth happening at the base of the trunk, on each morning vineyard walk.