The Novelists
June 29th, 2019 | 5:45pm until 9:00pm
Doors open at 5:15pm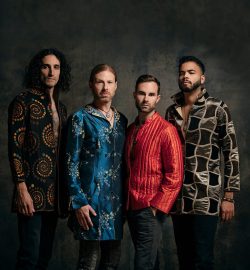 An elderly couple stands precariously on the railing of a 17-floor balcony… two teenagers unknowingly choose a murder scene for their parking date, and a young man throws off the shackles of a bullish culture. These are just a sample of the scenes in which you'll find yourself immersed when you listen to The Novelists. Equally comfortable acoustic or electric, The Novelists showcase cliffhanger storytelling, multiple lead singers, and their signature four-part harmonies.
Having last played at Darcie Kent Vineyards in 2017 after two resounding appearances in 2016, including playing an opening set for the Crawdad Republic album release festival, they're back! The Novelists frequently play in San Francisco and Berkeley as well as festivals and notable venues all across the nation. Their newest single, With Drawl, was the inspiration for Darcie's newest mustang painting and she even calls them out in the  painting description.
The Novelists have become a mainstay on the West Coast festival, college and have shared the stage with Big Bad Voodoo Daddy, John Prine, and Daryl Stuermer (Genesis).
Notable performances include:  "Sail Across The Sun" Music Cruise Festival (Hosted by Train), Cowboys Stadium (Dallas, TX), Strawberry Music Festival (Camp Mather, CA), California Wordfest, (Grass Valley, CA), Americana Music Festival (Virginia City, NV), Black Potatoe Music Festival (Clinton, NJ), Watsonville Strawberry Festival (Watsonville, CA), The Knitting Factory (Reno, NV), Shank Hall (Milwaukee, WI – w/guest musician Daryl Stuermer of Genesis), Swallow Hill (Denver, CO), The Living Room (NY, NY)
Tickets
This year we are offering two tiers of tickets to our Summer Concert Series events, the Reserve Patio VIP Ticket Package and the Lawn tickets. Tickets are available for purchase on our online webstore or by calling our tasting room at 925-243-9040.
Reserve Patio VIP Ticket Package – Retail price $125 | DKV Club Member Price $100

Each Reserve Patio VIP Ticket Package will grant two person's entry into the concert with a guaranteed seat at a table on our patio. The Reserve Patio tickets include two Darcie Kent Vineyards GoVino glasses, a bottle of Darcie Kent wine, and appetizers.
Due to space on the patio, we are only able to offer a limited quantity of 35 ticket packages.

Lawn Ticket – Retail Price $25 | DKV Club Member Price $20

Darcie Kent Vineyards is offering tickets for general admission lawn seating. Each Lawn ticket will grant one person's entry into the concert. Lawn tickets will require you bring your own lawn chairs and/or blankets to set up on the event lawn; tables and chairs will not be provided.

Food and Drink

Darice Kent Vineyards is excited to have partnered with local Livermore restaurant Zephyer to provide food for sale at all our concerts this year.

We will have a selection of Darcie Kent Vineyards wines available for sale by the glass or bottle.

As always, we cannot allow guests to bring in their own alcoholic beverages due to licensing restrictions. We thank you in advance for your cooperation on this matter.