The Foxies
July 20th, 2019 | 5:45pm until 9:00pm
Doors open at 5:15pm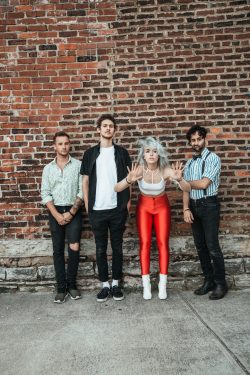 The Foxies are a new favorite of Darcie Kent, as well as her winery! Not just because of singing "Box Wine" on their Oblivion album but also for their upbeat tunes that keep us dancing. This band is on the verge of breaking into the big time and we are excited to introduce them to NorCal!
By its very nature, the fox is a deceiver. Seen from a distance it barely even looks wild. Sleek and refined, alarming only in its beauty, it almost begs to be made a pet. But make no mistake – those teeth are sharp, and a loner's life calls for ferocity.
The same is true of The Foxies, the indie pop foursome now prowling a melodic crossroads of new-wave glam, punk rock, and high octane dance-floor fire. Based in Nashville, Tennessee, the band's roots stretch from the wide-open expanse of Arizona to the tangled urban jungle of New York City, created by front woman Julia Lauren Bullock and featuring guitarist Jake Ohlbaum, bassist Kyle Talbot and drummer Rob Bodley.
A kinetic blast of back-alley grit and tightly-wound flamboyance, their live shows are defined by an unlikely but danceable combination of sensual vocals, grungy guitars, fat-bottomed beats and shimmering electronic hooks, making them surprise standouts at the 2018 Sundance, South by Southwest and Bonnaroo music festivals.

Tickets
This year we are offering two tiers of tickets to our Summer Concert Series events, the Reserve Patio VIP Ticket Package and the Lawn tickets. Tickets are available for purchase on our online webstore or by calling our tasting room at 925-243-9040.
Reserve Patio VIP Ticket Package – Retail price $125 | DKV Club Member Price $100

Each Reserve Patio VIP Ticket Package will grant two person's entry into the concert with a guaranteed seat at a table on our patio. The Reserve Patio tickets include two Darcie Kent Vineyards GoVino glasses, a bottle of Darcie Kent wine, and appetizers.
Due to space on the patio, we are only able to offer a limited quantity of 35 ticket packages.

Lawn Ticket – Retail Price $25 | DKV Club Member Price $20

Darcie Kent Vineyards is also offering tickets for general admission lawn seating. Each Lawn ticket will grant one person's entry into the concert. Lawn tickets will require you bring your own lawn chairs and/or blankets to set up on the event lawn; tables and chairs will not be provided.

Food and Drink

Darice Kent Vineyards is excited to have partnered with local Livermore restaurant Zephyr to provide food for sale at all our concerts this year.

We will have a selection of Darcie Kent Vineyards wines available for sale by the glass or bottle.

As always, we cannot allow guests to bring in their own alcoholic beverages due to licensing restrictions. We thank you in advance for your cooperation on this matter.