Shana Morrison and Caledonia
June 30th, 2018 | 5pm until 8:30pm
Doors open at 4:30pm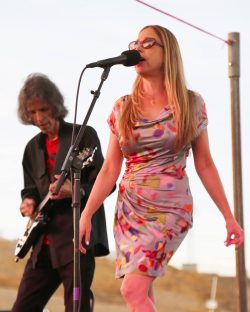 Shana Morrison's musical style has been called pop with a side of blues and a side of rock. She has also been known to include other ingredients, like country, R&B, and jazz into the mix. Her material seems to be ever-changing and hard to pin down categorically. What always remains the same is Shana's unique and wide-ranging voice.
Shana Morrison began performing with her father, Van Morrison, before striking out with her own group Caledonia in the San Francisco Bay area in 1996. Her debut CD, Caledonia, was released on her own label, Belfast Violet Records, in 1998 and picked up by the Monster Music label in 1999.
"With a smooth, elastic voice and a style that lands between jazz chanteuse and rock chick, Morrison has won an enthusiastic following." —Rolling Stone
Opening for Shana Morrison and Caledonia will be Maddy Hudson. Maddy is a local Pleasanton resident who appeared on season XIV of American Idol. In addition to being a finalist on American Idol XIV, performing both locally and abroad, and being cast in the feature film Bogie & Bacall, Maddy works with Canada's "Leading The Change Music Project for Kids" through the Horses Help Kids program, a youth-based global initiative that supports humanity and the betterment of young lives. Maddy also co-wrote and recorded the song "Stepping Into Your Life" that was debuted at this year's United Nations' World Mental Health Day, which is recognized in over 100 countries.
Tickets
This year we are offering two tiers of tickets to our Summer Concert Series events, the Reserve Patio and the Lawn tickets. Tickets are available for purchase on our online webstore or by calling our tasting room at 925-243-9040.
Reserve Patio – Retail price $60 | DKV Club Member Price $50

Each Reserve Patio ticket will grant one person's entry into the concert with a guaranteed seat at a table on our patio. The Reserve Patio tickets include a reserved seat at a table for the show, a pre-show champagne reception and hors d'oeurves with David, Darcie, and band members, a Darcie Kent lanyard, and a Darcie Kent GoVino glass.

Lawn Ticket – Retail Price $25 | DKV Club Member Price $20

Darcie Kent Vineyards is also offering tickets for general admission lawn seating. Each Lawn ticket will grant one person's entry into the concert. Lawn tickets will require you bring your own lawn chairs and/or blankets to set up on the event lawn; tables and chairs will not be provided.

Food and Drink

Darice Kent Vineyards is excited to have partnered with local Livermore restaurant POSADA to provide food for sale at all four of our concerts this year. Chef Eduardo and his team created a concert menu with delicious items that will be available for purchase; and as a special treat, we will be serving Posada's famous Sangritas at all of the concerts this year!
As well as offering Posada's sangritas for sale, we will have a selection of Darcie Kent Vineyards wines available for sale by the glass or bottle.

As always, we cannot allow guests to bring in their own alcoholic beverages due to licensing restrictions. We thank you in advance for your cooperation on this matter.