Firefall
September 15, 2018 | 5pm until 8:30pm
Doors open at 4:30pm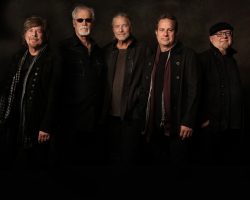 In an age where new bands come and go, Firefall has enjoyed a career that spans more than forty years and shows no sign of slowing down. Firefall's commercial success includes three Gold albums, two Platinum albums and eleven chart-topping singles. The band's biggest hit, "You Are the Woman" has been played on commercial radio more than 7,000,000 times and has also appeared in many movies and television shows.
Over the past four decades, Firefall has toured the world and shared stages with other iconic bands such as Fleetwood Mac, The Band, The Beach Boys, Kenny Loggins, Journey, Heart, ELO and Marshall Tucker Band.
Currently touring with three original members (Jock Bartley, David Muse, Mark Andes), longtime drummer Sandy Ficca and talented newcomer Gary Jones, Firefall continues to make great music for a loyal following, adding new fans at each show.
Meredith has been singing since she could talk and gave her first solo performance at 10 years old. After studying classical voice, musical theater and jazz in college she took a sharp left turn and veered into the business world for 8 years. That road left her with the feeling that something was missing in her life. She knew music was that absent puzzle piece but had very little time to devote to a band, or theatrical production in between long hours in corporate training. So just to get her feet wet again she began singing karaoke in local bars, winning a number of contests along the way.
Tickets
This year we are offering two tears of tickets to our Summer Concert Series events, the Reserve Patio and the Lawn tickets. Tickets are available for purchase on our online web store or by calling our tasting room at 925-243-9040.
Reserve Patio – Retail price $70 | DKV Club Member Price $60

Each Reserve Patio ticket will grant one person's entry into the concert with a guaranteed seat at a table on our patio. The Reserve Patio tickets include a reserved seat at a table for the show, a pre-show champagne reception and hors d'oeurves with David, Darcie, and band members, a Darcie Kent lanyard, and a Darcie Kent GoVino glass.

Lawn Ticket – Retail Price $35 | DKV Club Member Price $28

Darcie Kent Vineyards is also offering tickets for general admission lawn seating. Each Lawn ticket will grant one person's entry into the concert. Lawn tickets will require you bring your own lawn chairs and/or blankets to set up on the event lawn; tables and chairs will not be provided.

Food and Drink

Darice Kent Vineyards is excited to have partnered with local Livermore restaurant POSADA to provide food for sale at all four of our concerts this year. Chef Eduardo and his team created a concert menu with delicious items that will be available for purchase; and as a special treat, we will be serving Posada's famous Sangritas at all of the concerts this year!
As well as offering Posada's sangritas for sale, we will have a selection of Darcie Kent Vineyards wines available for sale by the glass or bottle.

As always, we cannot allow guests to bring in their own alcoholic beverages due to licensing restrictions. We thank you in advance for your cooperation on this matter.